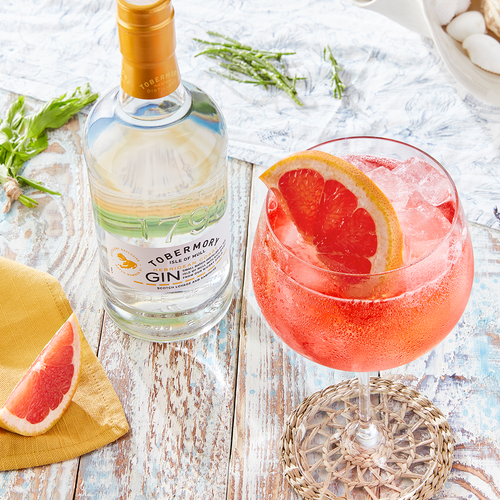 Hebridean Coast Gin
This Distillery Exclusive gin is inspired by the wild but beautiful coastlines of the Isle of Mull.  Distilled using scotch lovage, sugar kelp, lavender and samphire this salty, savoury gin makes a delicious dirty martini cocktail!
More Information
Tobermory Coast Gin is made by our team at the distillery on the Isle of Mull.
All of the botanicals including scotch lovage, samphire, sugar kelp and lavender, are steeped for a minimum of 24 hours in our base spirit. This is made up of Grain Neutral Spirit and a splash of spirit from our Tobermory whisky stills. The result is a unique savoury gin, inspired by the stunning shoreline on Mull.
Read on to discover what wour key botanicals add to this distillery exclusive gin.
SCOTCH LOVAGE
The herbaceous notes of lovage bring out some of the spicier coriander notes in the gin.
SUGAR KELP
Salty flavour to add a coastal sea spray influence which comes through in the background
LAVENDER
Lavender adds beautiful sweet floral notes and helps to balance the saltiness from the kelp and samphire
SAMPHIRE
A bit like kelp, samphire was added for its salty properties. It helps to balance the sweetness of the gin and compliments the beautiful citrus notes while adding a new depth
Tasting Notes
Nose
Initial sweet notes of lavender and candied citrus are followed by a herbaceous bouquet and a light coriander spice
Palate
Wonderful creamy mouthfeel packed full of juniper, balanced with notes of orange peel and zesty lemon with a floral influence and rock salt lingering in the background.
Finish
Sweet finish with a slight malty influence and touch of sea spray
Learn more with our Master Blender
Discover more about the inspiration, botanicals and flavours of Coast Gin - the newest edition to the Tobermory Gin family - from our Master Blender; Julieann Fernandez.
Awards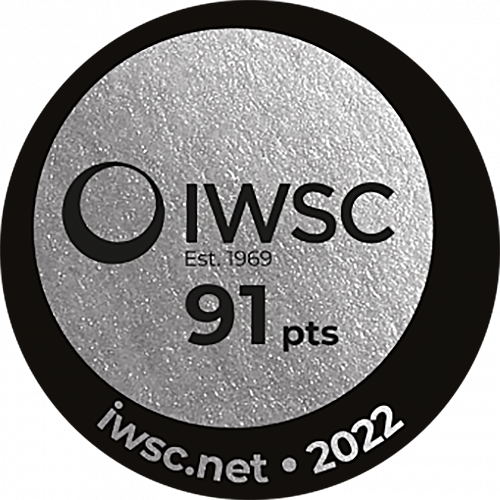 Customer reviews
Discover More about Tobermory Hebridean Coast Gin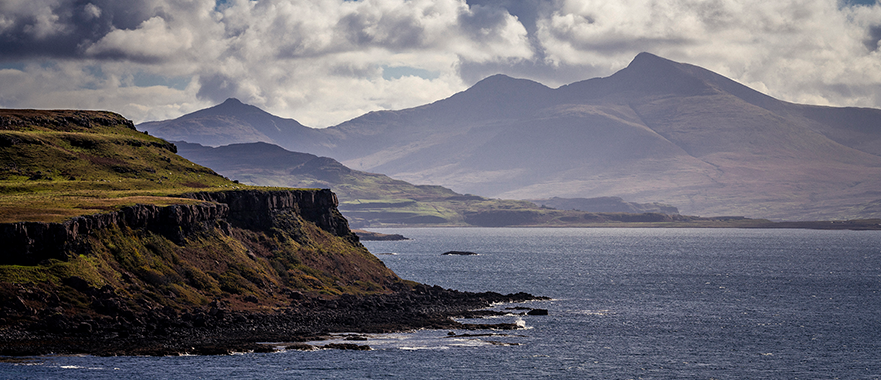 Our Inspiration
Inspired by the Isle of Mull's wild and beautiful coastline, we have chosen botanicals to give our Coast gin a slightly salty flavour. Guaranteed to transport you straight to one of our picturesque Hebridean beaches with just one sip.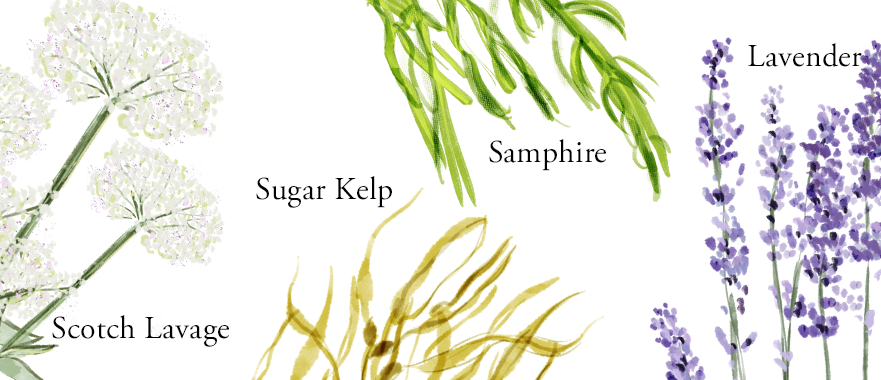 Our Botanicals
Hand-selected by our Blending Team, the botanicals in our new Coast gin perfectly balance sweet and savoury flavours to create a truly unique gin. Including sugar kelp and samphire for their salty properties used to compliment sweet and citrus notes, scotch lovage for a herbaceous flavour, helping to bring out spicier coriander notes, and lavender to provide a sweet, floral element to the gin.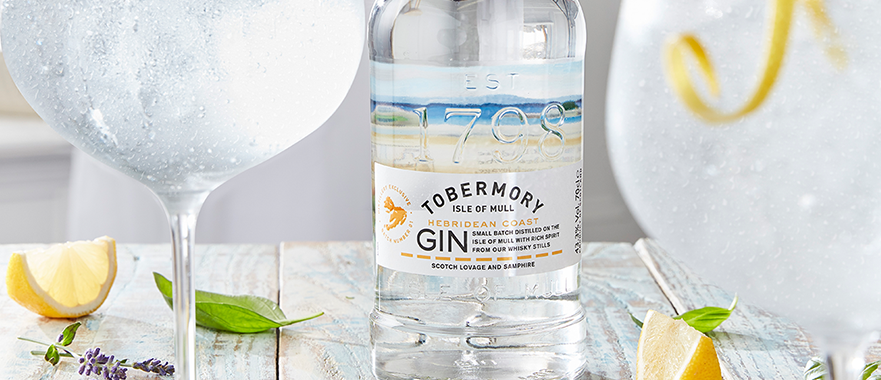 Our Signature Serve
Enjoy our Coast Gin in a G&T. Add 50ml of Tobermory Hebridean Coast Gin to a balloon glass filled with plenty of ice. Add your favourite tonic water and garnish with lemon and fresh basil.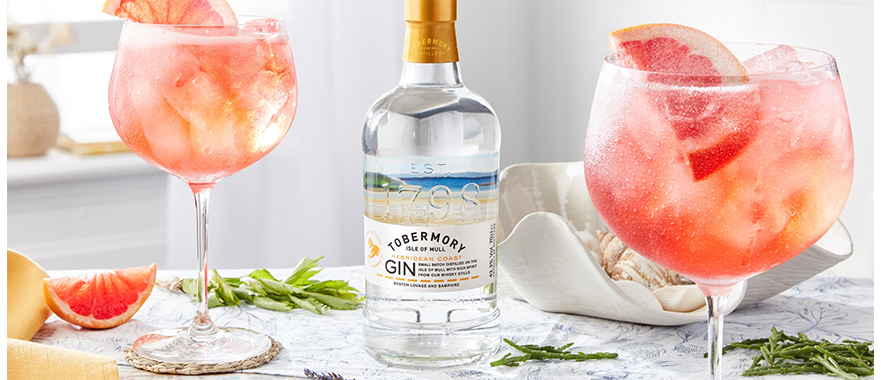 Orange Burst Cocktail
Try our Coast Gin in a simple cocktail. Add 50ml Hebridean Coast Gin ​to a balloon glass with ice. Top with Fever Tree Italian blood orange soda ​and add a couple of dashes of Angostura Orange Bitters. Garnish with a wedge of pink grapefruit and enjoy!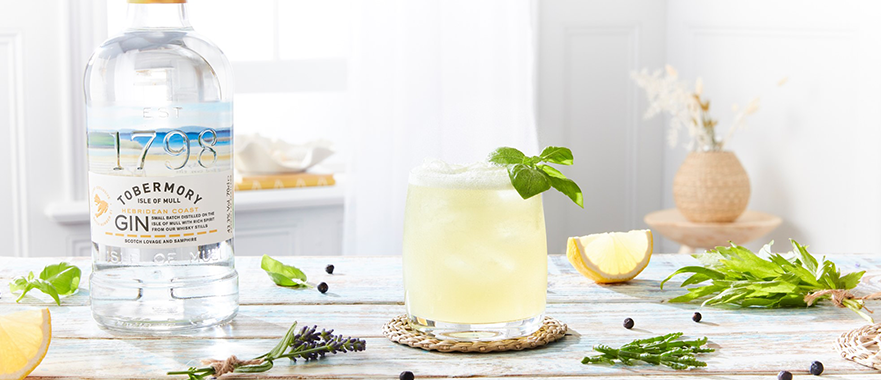 Summer Haze Cocktail
Feeling a bit more adventurous? Our Coast Gin is a delicious base in this sweet and citrusy cocktail. Add ​50 ml Coast Gin, 50ml pineapple juice, 25ml lime cordial ​and 12.5ml lemon juice to a cocktail shaker and shake well. Pour into a tumbler glass with plenty of ice and garnish with fresh basil.
Our Recommendations
You may also like...
Discover Tobermory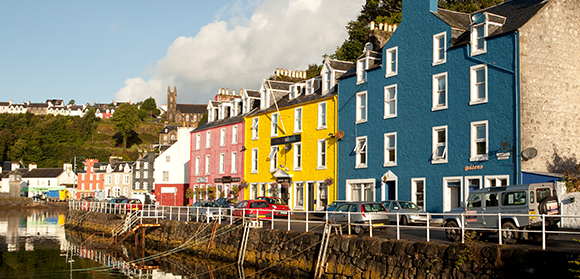 About Us
Sitting in the centre of the vibrant island community, from which we take our name, we are a thriving, expressive and unique distiller, true to our idyllic Hebridean home.
Discover More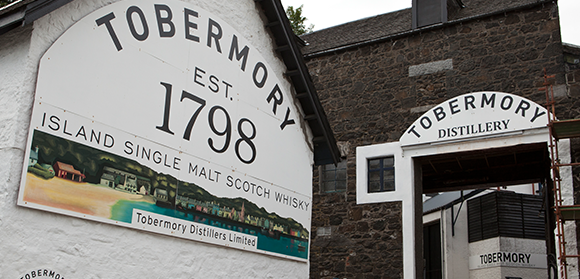 Plan Your Visit
A warm welcome awaits you at our artisan distillery on the Hebridean Isle of Mull. Discover our delicious spirits on a visit to the distillery!
Plan Your Visit